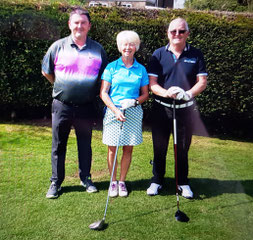 Excellent weather and a good turnout of spectators made the 2019 Captains drive in a special occasion.
Left to right we have Club Captain Gary Kennedy, Ladies Captain Brenda Mills and Seniors Captain Keith Martinson.
The drive in kicked off the first competition of the season, the Braidwood Cup and the good weather and excellent course condition resulted in some competitive scoring with Paul Heron just edging it on 39 points. This was followed by John Eden, Stewart Armstrong and Bill Martin all on 38 points.