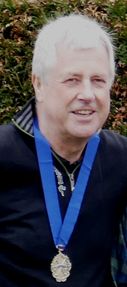 In the circular email dated the 24/3/2020 cancelling the Stocksfield Golf Club 43rd AGM (due to the Coronavirus and the associated Government directives, specifically around the avoidance of gatherings and the need for social distancing). We agreed to process the agenda electronically and set a date of the 13/4/2020 to receive any comments, questions and any further nominations. I can now summarise below the outcomes of that process and subsequent decisions. Please note that new appointments will take effect from the 17/4/2020.
1. Confirmation of Officer Appointments:
President Mrs S Kennedy for 2 years
Captain Mr A Digirolamo
Vice Captain Mr Fintan Kealy
2. Confirmation of Director Vacancy Appointments:
Chairman Mr S Pearson for 4 years
Director of Clubhouse Services Ms S Brown for 4 years
Director of Marketing and Member Recruitment (remains a vacancy)
3. General:
Captain's tie, Past Captain's tie and memento and the President's chain of office will be handed over at the most opportune moment.
A video of each Captain driving in (from a local venue) will soon be on the club's website. The traditional version of the drive in's will obviously take place in April next year.
It should be noted that due to the course being closed for the foreseeable future, the cancellation of various club competitions along with the Hadrian, Senior and Junior leagues; the Men's, Ladies, Senior and Junior Captain appointments will be rolled over for a second year to ensure they get the full benefit from these positions.
Member Survey results will be circulated as soon as possible, plus the compilation of an action improvement plan for implementation. Although there will be a delay due to the fact that the England Golf Support Officer has been furloughed.
Finally as outgoing President I would like to take this opportunity of thanking everyone for making my two years so enjoyable. I would also describe the experience as interesting and certainly challenging. Particular thanks to my Committee colleagues who, without exception, have worked tirelessly and enthusiastically to help get the club into a much more financially stable and sustainable position. I would also like to thank Mick and Andy and their respective teams for all their hard work, the back room support, volunteers and you as members for pulling together to ensure the continuation of this wonderful golf club.
Last, but not least our new professional Nicky Maddison who has already put his stamp on the place in such a short time and will continue to prove to be an excellent acquisition.
Over to you Sonia. Enjoy!
Hope to see you all soon back playing. Take care and stay safe.
Steven Pearson
President
---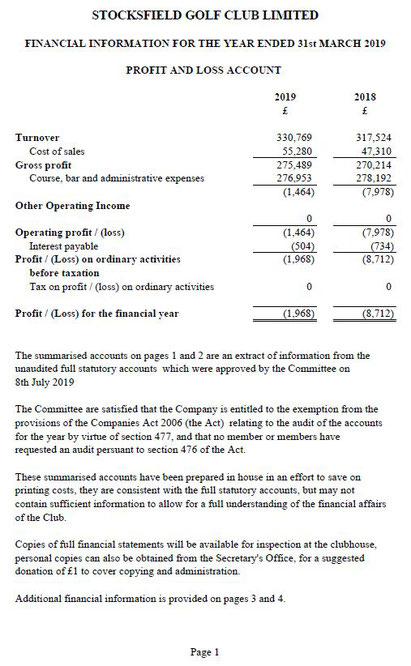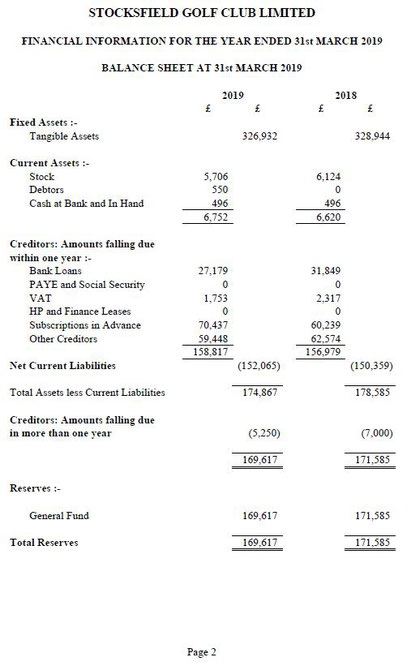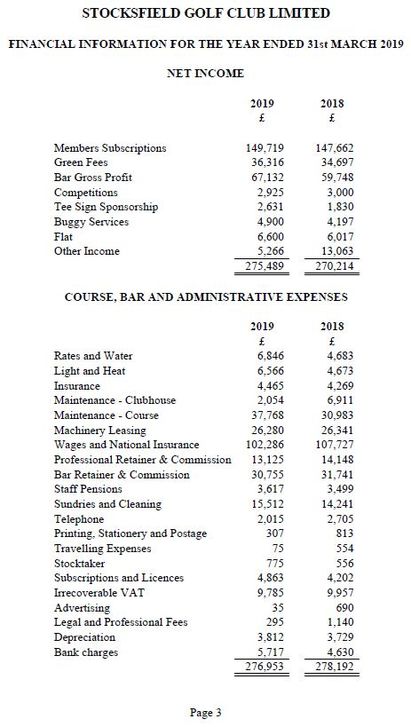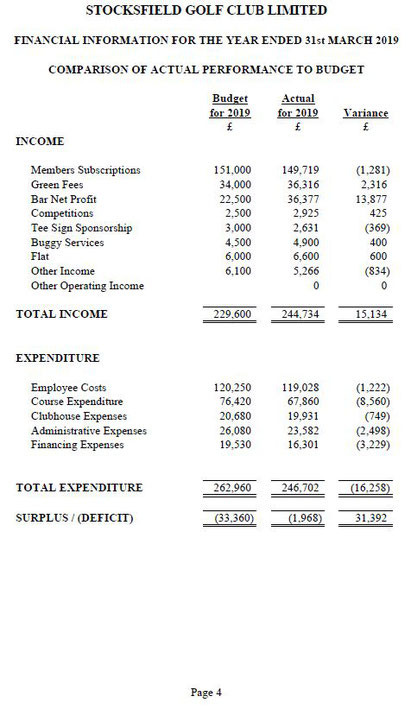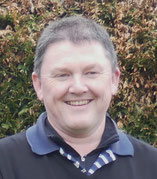 Captain's Report
Well what a year. Could I take the opportunity to show my gratitude on behalf of all the members in thanking the Committee and all the employees of Stocksfield Golf Club for their fantastic work and attitude in the handling of the Coronavirus issues we are having to deal with. Please everyone stay safe in what is clearly a challenging situation.
Following on from Barney I knew it was always going to be tough. I had hoped for good times and success in my captaincy but I received much more than I ever expected.
Regarding the success, winning the Hadrian League was obviously the pinnacle of my year and I would like to thank the clubs team players, caddies and supporters who were fantastic in their effort and commitment all season. Getting to the final of the Davison Cup was also a great achievement and the success will stay with me forever.
I would like to thank everyone who helped and contributed over the last twelve months in making my year a one to remember. Special thanks to all the members and friends for their generosity in supporting my Captains Charity Hexham Priory School.
I am so grateful also to Mick Byerley and all the green staff also Andy Wain and his staff for all the effort and hard work that is carried out on a daily basis.
Obviously my leadership was the critical factor, or was it the chocolate and drinks. I haven't worked that one out yet. I did like the emergency fixtures last year as I managed to have two captains days, albeit one was considerably wetter than the other.
Finally I would like to thank Anthony my Vice Captain for all his support (and haircuts) and wish him and Fintan his Vice Captain the best luck in their years of captaincy.
Gary Kennedy
---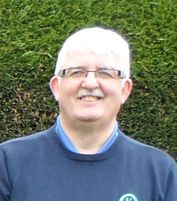 Chairman's Report 2019/20
Welcome to my second and sadly last Chairman's report as my tenure in this position is coming to an end and I am not seeking re-election. It has been an honour and a pleasure to serve the Club in this position and whilst I cannot say it has been a pleasure all of the time, I have enjoyed the wit, wisdom and support of an enthusiastic and committed Committee throughout my service. A special mention for Steven, our President, who provided the thoughtful and reasoned sounding board for all my thoughts and anxieties, and without whom, I would have found the role an even greater challenge.
2019 has been another year of considerable change. Unfortunately after a long and drawn out process we were unsuccessful in our interim planning application for the development of the clubhouse car park. It was very encouraging to see a great number of members at the planning meeting giving their utmost support for the application but in the end the planning committee voted unanimously against it. The main driving force for our development plans was Jen Page and I cannot thank her enough for her diligence, determination and sheer hard work in the planning and preparation for our submission. Sadly, it therefore came as no surprise when she decided to call it a day and resigned from the Committee to regain her life and enjoy time away from Planning.
After 14 years of service as Club Professional, Steve Harrison decided to leave to further his career in the golfing fraternity. Steve always came across as a friendly, helpful and caring individual. He is an excellent teacher and many members have progressed their game as a result of his specialist input and thorough analysis of more than a few dodgy swings! I, like many members was sad to see him go, however he now has new challenges to face and I wish him the best of success in all of his future ventures.
With Steve moving on, it gave us the opportunity to look for a new professional.  Thankfully we were successful in our search and appointed Nicky Maddison, an Assistant Professional from The City of Newcastle Golf Club, who began his tenure in January. Already Nicky has made an impact on the club with the development of a new shop and dedicated 'swing room' which is making practice a bit more bearable during this horrid weather. I am sure he will go from strength to strength and prove to be a valuable asset for the club in the development of all sections.
The new employment arrangements for the green's staff have now been in force for the year and the quality of the course throughout last season reflects the care and commitment shown by new and former staff alike. So well done Mick, Peter, Joicey and Ant for the outstanding presentation of the course this year, you should be rightly proud of your achievements and we look forward to even greater improvements in the future.  Another big thank you goes to Andy and Norma for maintaining our excellent clubhouse services and stepping in during the past few months to run the new sign-in procedures and manage the 'Purse' for the Winter League. It has been very successful and this has been mostly due to their continued involvement together with the immense help of Martyn Henderson as well.
I would like to thank the respective Captains – Gary Kennedy (Club Captain), Brenda Mills (Ladies Captain), Keith Martinson (Seniors Captain) and Archie Wilson (Junior Captain) for their hard work, patience and calmness throughout the year. Their commitment and efforts with their respective teams has ensured that the Club remains strong and competitive across all sections.
I would like to congratulate the respective Club Champions – Ben Squire (Gents), Liz Hartley (Ladies), Neil Henderson (Seniors) and Archie Wilson (Juniors).
All teams representing the Club had outstanding success this year. The Hadrian League team won their league and were finalists in both the Davison Cup (lost to Bamburgh Castle Golf Club) and the Dixon cup (runners up to Brancepeth Castle Golf Club). Josh McCutcheon was the Hadrian League player of the year and for the second time in succession, Sam Wilkinson was the Junior player of the year. The Seniors team were just pipped at the post for the Seniors League title and were most worthy Runners-up. The Ladies teams also had considerable success with the Shield team maintaining their position in their league whilst the Evening League team were once again runners-up in a very close game against Longhirst Hall Golf Club. However the icing on the cake for the Ladies was team success in the Nora Percy Trophy. We were also able to field a Juniors team this year who were very competitive in their League and look for even greater success this coming year with a full squad and the benefit of some quality coaching from our Professional.
We are once again taking advantage of raising the golf playing membership fees by the Retail Price Index as of June 2019. We are one of the least expensive golf clubs to join in the area and I believe we still give great value for your membership fee. The Secretary is renewing our reciprocal memberships at the moment and is still trying to negotiate new venues for similar deals. Social Memberships are still available for £21.
During the financial year the Committee made some difficult decisions in restructuring the green's staff and ended the year with a loss of only £1985, which included costs associated with redundancy. Cost savings have continued to be made and in particular those associated with course maintenance and staffing, although the course has received much praise from members and visitors alike. Regrettably we have needed to reassess our business plan as at this moment in time we were hoping for an injection of finance through the building project. However the measures taken by the Committee have meant that we will be showing a surplus in our accounts for 2019/20, the first time in a number of years. However, the planned clearing of our debts has not been achieved but has been reduced. My thanks go to Bill and Harry for their constant commitment to managing the finances as best we can.
In conclusion, I have to make note of the huge improvements that have taken place or are about to be put in place as far as the clubhouse is concerned. We now have a Pro's shop and swing room that are the envy of many a local golf club, mostly due to the input of Nicky and his family, and a new Meeting Room that can be available for community use. New lights have been fitted in the bar and restaurant areas and ceilings painted. Thanks especially to Peter Blackburn, Gary Kennedy and a whole host of volunteers for their tireless efforts with this work.  The new carpet and curtains for the clubhouse have been ordered and could be done for the start of the new season.
All of our developments, whether on or off the course, indicate that the Club is set for moving forward in the future and are leaving a legacy that can be enjoyed by all who come to Stocksfield Golf Club.
Les Palmer
Chairman