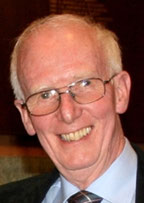 A Tribute to Bill Martin
Bill Martin sadly passed away on Sunday 18th July after a short illness. Our thoughts are with his family and close friends at this difficult time.
Bill has been a member of Stocksfield Golf Club for 45 years and during that time he was one of the club's greatest ambassadors. Bill recognised the importance of the juniors to the club and was appointed Junior Liaison Officer in 1982, he entered a team into the Northumberland Junior Golf league and the junior team went on to win the league 3 years later. More recently Bill along with son Simon managed the current team.
Bill was Captain in 1985 (when the new clubhouse was opened), he served as President in 2009 and Seniors Captain in 2011. He was appointed Chairman in 2012 and played a big part in the Centenary celebrations in 2013, including a big contribution to the production of the Centenary book. More recently he served as Director of finance and Secretary (in fact you name it Bill has done it). 
Bill loved the Golf Club and if he wasn't playing he was eating there. He did a tremendous amount of work behind the scenes to help the club through the hard times, more recently he was behind many of the grants we were able to claim during the Covid lockdowns, helping put the club in a stronger financial position than would otherwise have been the case.
Bill was always the life and soul of the party, especially at social events and on golfing trips, many of you will be able to recall tales of his exploits and raise a smile in memory of his antics, he will be sadly missed. Below are a few photo's to remind you of the great man.