Committee news snippets
Attending the recent management committee meeting were Richie Armstrong who will take over from Sonia Kennedy as President from April and Tim Docking who has taken up the vacant role of Marketing Director. Tim will be instrumental in plans to improve our Recruitment and Retention efforts.
Liz Hartley has been appointed as the new Club Welfare officer. Details will be posted on the club website.
The list of reciprocal deals with various clubs has been finalised. For more information click here.
---
Course news
The recent storms have resulted in a lot of debris on the course making more work for our hard working greens staff, however despite this Mick and his team are pushing ahead with the winter program with a number of new drains being installed and existing ones cleaned out on 7th, 8th, 11th & 16th.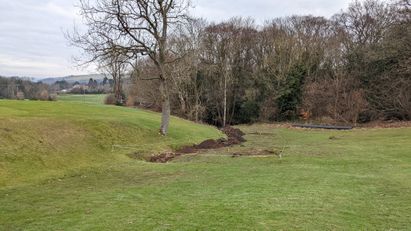 Some damaged or diseased trees are being removed and Greens are being verti-drained and sanded. Work will shortly be starting on the new 12th hole Tee box plus planned improvements to the practice facilities, more details on these will follow in due course.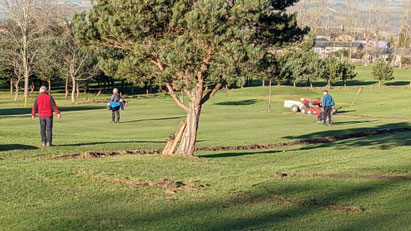 Lets avoid having to play from lies like these.

With the good weather the course has been drying nicely and is currently playing very well for the time of year, however there are an increasing number of pitch marks on the greens that are not being repaired and divots in the fairways that are not being replaced. Please can you help your club by repairing pitch marks and replacing divots, even if you did not create them. 
No one wants to find a lie like this in a bunker so please rake bunkers after you have played out from them. Thanks for you help with this and thanks for your patience while the course improvement work is in progress, we will all benefit when the 2022 season starts.
---
News from your Pro
Congratulations to Stocksfield Assistant Professional Archie Wilson who has passed his first assignment of his PGA degree. Archie has also passed his Level 1 Coaching certificate allowing him to now assist Nicky with the junior coaching set up. Well done archie "he's one of our own"!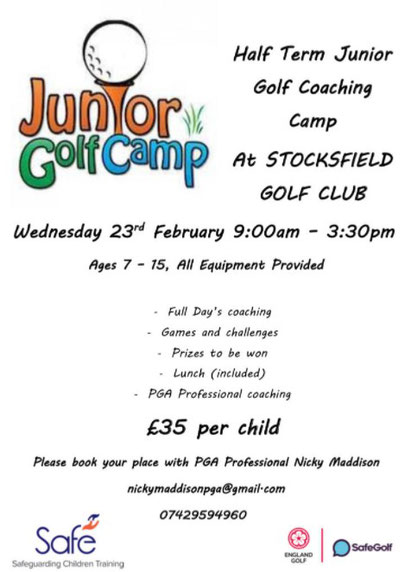 Financial news
Director of finance Sue Brown reported that we continue to show a healthy cash balance and surplus for the year thanks partly to grant aid that has helped throughout the Covid restrictions.
The last few months have been quiet in respect of the bar and catering and this will have an effect on the overall bar profits for the year. In light of this we will be making a small increase in the price of drinks although they will still be competitive. With the easing of Covid restrictions, the Bar Olympics and the support of members visiting the club we should be able minimise the shortfall in this area.
The Objectives for this year (as outlined in the Business plan which can be viewed here) are being met with work currently in progress and work planned for the remainder of the financial year.
Budget preparation for the year 2022-23 is in progress and a first draft will be ready for the next committee meeting.
---
Clubhouse news
Work has started on rebuilding the decking. The original timber structure is being replaced with a more permanent structure with paving in place of the timber deck.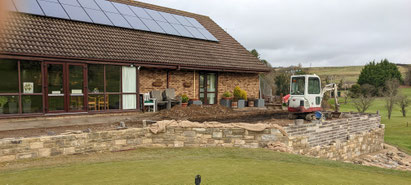 This years Bar Olympics competition started on Thursday 13th with 8 teams taking part and a good night was had by all. Spectators are welcome and, if anyone is interested in taking part, then let the organiser know and if there are any vacancies you could well get a game.

Sky Sports in the bar is proving very popular, keep an eye out for  upcoming Premier League games and Golf tournament coverage.
---
Bar and Catering
Russell's Sunday Lunches are getting very good revues so if you want to enjoy an excellent meal and support your club why not book up (01661 843041 option 4). Also please let your friends know as non members are also very welcome.
Competitions news
This coming weekend sees the end of the Winter League Singles competition so this is your last chance to climb up the league.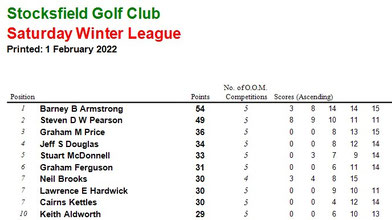 The following weekends we are holding Pairs and Team competitions with a few Club sweeps leading up to the start of the season. Looking further ahead, booking is now live for our Open competitions, for further information follow this link.
There have been a number of DQ's recently in competitions due to missing information on scorecards. To avoid this and to help the volunteers who check the cards and process the results, please ensure your scorecard is fully signed and has the competition name and date along with your name and handicap information.
As previously reported we have had both our normal winter course and the 'Back 9 twice' course officially rated in order to hold qualifying competitions whenever conditions allow and the fine weather in January has allowed a number of these competitions to take place. Qualifying competitions during the winter is necessary for the WHS system to function correctly and is part of the guidance from England Golf and, while a number of members were against it, there were also a number who were all for it as they consider it important in order to deliver fairer results in the competitions. If you have strong views on this please let us know using the comments option below.
---