Committee News snippets 
Norma Ferguson our Administration Manager has worked for Stocksfield Golf Club for 33 years, which is quite astonishing. Norma has continued to be the 'glue' holding the administration of the club together. However, she will be reducing her current number of working days from 4 to 2 (Monday and Tuesdays) from the 1/7/2022. Fortunately Norma will continue to be around to carry on her excellent work and share her knowledge and experience with others.
Following a review of the Golf Club's management structure, a new position of Secretary / Manager has been created. This will be a paid post and will require the appointed person to work 18 hours a week, primarily on a Wednesday, Thursday and a Friday. This post is currently being advertised internally and anyone wishing to declare an interest and requiring further details on salary and job content, please contact Steven Pearson, Chairman on 07765006510 or email admin@stocksfieldgolfclub.co.uk  no later than 4/4/2022.
The club have signed up with Golfhaftet (Europe's leading Golfers Card) Click here for more information. Hopefully this will help increase the number of much needed visitors.
---
Member Recruitment and Retention
We are fast approaching the start of the new Season with the AGM on 22nd April and the 'Captains Drive in' the following day. Also members will have received their annual subscription invoice which is due on 1st April. We hope you all renew and continue to enjoy our excellent club facilities.
For new members we are offering a 3 month introduction package (see advert below) so if you have any friends considering joining then this is a good way to start.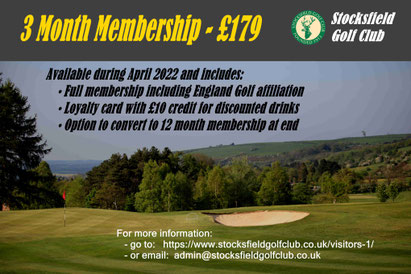 ---
Clubhouse News
The patio rebuild is finished except for the railings which are currently being manufactured and should be in place by the end of April. In the meantime it is hoped to use temporary safety barriers in order to get the patio into operation as soon as possible.  
As part of the clubhouse refresh it is planned to paint the outside woodwork. If any member (or group of members) are interested in volunteering to help out with this work please get in touch using the comments section below or email info@stocksfieldgolfclub.co.uk
---
Competitions update
Not long to wait for the start of the new season. We have 4BBB competitions this weekend then the 'Bill Martin Bursary Fundraiser' (3 or 4 person Scramble with guests welcome) the first weekend in April.
The following weekend we have the 'Stephen Carey Defibrillator Fund' competitions (to raise some money for a worthy cause) followed by club sweeps then the Captain drives in on 23rd April. 
Entries are now open for the Matchplay competitions. There are 4 singles, one pairs plus a mixed pairs competition, entry is £2 per person (£1 entry, £1 sweep) for each competition and the money will be taken from your competition purse when the draw is done. For information on these competitions please click here and to enter please email your name and the competition name to competitions@stocksfieldgolfclub.co.uk.
Don't forget we have a comprehensive list of Open competitions and entries are now open for these along with the Pro's day on Saturday 25th June. Click here to enter and please note: Members must sign in to BRS  using the 'LOGIN'  button at the top right of the Time sheet.
---
Seniors section reduce age limit
At the recent Seniors section AGM the outgoing Captain Jim Relph thanked everyone for their support during an enjoyable year and thanked the team for securing an excellent joint 2nd place in the seniors league. He then presented the Senior Captains tie to the new Captain Peter Clarkson. Peter then introduced his vice Captain Bill Fraser.
The Senior section is an active section of the club and is now open to members aged 55+. The section holds weekly sweep competitions every Monday morning and several trophy competitions throughout the year, including the Seniors Championship (a scratch competition which has a minimum qualifying age of 60). There are also two outings per year, a number of Friendly matches against local clubs and a team in the Northumberland Seniors League.  
Anyone wishing to join the seniors section (and are 55 or over on the 1st April) please email info@stocksfieldgolfclub.co.uk with your name and you will be added to the list, the £5 annual fee will be taken from your Competition Purse on April 1st. So far we have had 9 new members joining and 15 existing members confirming they wish to stay members (22 existing members are still to confirm), we look forward to hearing from you.
This year there are 3 Seniors Open competitions the first of which is on Monday 9th May. Entries are now open and can be made through the link on the Visitors page of the club website or by clicking here. (make sure you log into BRS using the link on the top right of the booking screen).
---
 Course News
The current fine weather is allowing the greens staff to get on with hollow coring the greens and anticipate the greens will be  in top condition for the start of the season. Also weather permitting we should have a qualifying course early April.
Meanwhile work is progressing with the new 12th tee and also with the improvements to the Practice facilities.
---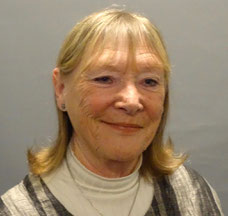 Ladies Section
At the recent Ladies AGM the new Ladies Captain Sonia Kennedy took office. This is Sonia's second time round and she is just finishing her year as President (busy Lady). Sonia takes over from Sue Brown and her new Vice Captain is Sue Pickering.
---
Pro's News
By popular demand we will be running the 12 hole Wednesday sweep again this year and the good news is it will be run as a handicap qualifier. 
The first Junior Golf coaching camp was a great success with 20 young golfers between 7 & 6 attending and thoroughly enjoying the experience despite the blustery conditions. Following this success we are repeating it on 2 dates over Easter (see below).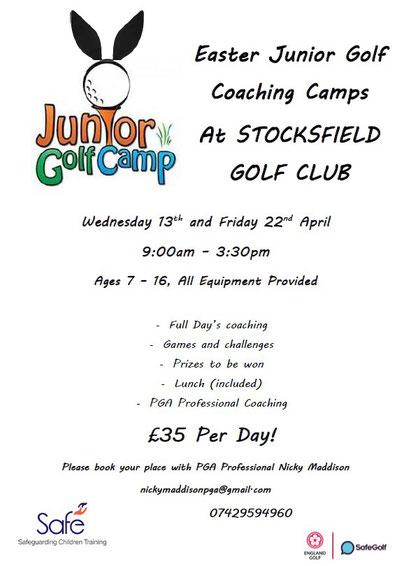 Bar Olympics
Thursday 10th saw the conclusion of an exiting Bar Olympics series with the winning team "The Youth + 1" receiving their winners medals from Captain Fin (far left on photo) and the best individual receiving the coveted individual trophy. A big thankyou to Jeff Hird (far right on photo) for organising the events. The full results are shown below.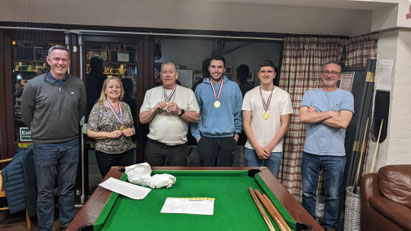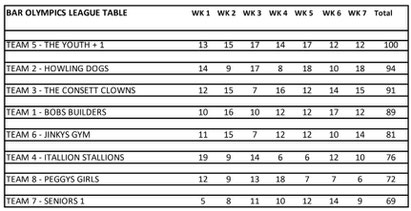 TGI Golf pro am event
Early march saw a group of members travel to Turkey to play in the brilliantly organised annual TGI Golf pro am event (sponsored by Taylor Made, Adidas and Powakaddy. Over the last 10 years this has become an annual event for a few of our members and this year was eagerly awaited after missing 2021 due to covid travel restrictions.
This year we took our largest number of teams-  7 - and were supported by our head professional Nicky and his assistant Archie as well as 5 other professionals from around the Northeast and beyond…  Some Stocksfield teams were successful in winning team prizes as well as others winning individual prizes. Although the sun didn't shine too much all the group had a great time, and some more than others made good use of the "all inclusive" food and drink!!. Nicky also found out that he doesn't need to pay for a singer on his Pros Day as Archie Wilson "aka Michael Buble", found his niche on the Karaoke machine (video evidence is available at the right price). Role on 2023.