---
45th Annual General Meeting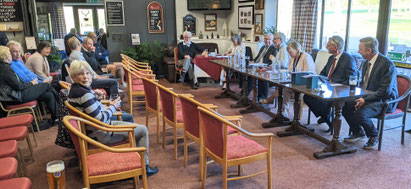 At the AGM on Friday 22nd President Sonia Kennedy, in her 2nd and final year of office, guided us through the Agenda.
Steven Pearson summarised his Chairman's report, outlining the resilience of the club through the recent 2 years of disruption and highlighting the changes to the Organisational structure aimed at making the management more streamlined and effective. The full text of his report along with the management Organisational structure can be seen by clicking here. Tim Docking was confirmed as the new 'Director of Operations' and Steven Cram takes over as 'Director of Course Services' with Mick Byerley taking the position of Head Greenkeeper.
Harry Corbett gave a brief summary of the financial position with a special mention of the late Bill Martin who was instrumental in obtaining several Grants and ensuring the club not only survived but prospered through the difficult times.
Captain Anthony Digirolamo gave his thanks for an enjoyable 2 years of office, despite the Covid restrictions. Highlights being the success of the Hadrian League team in winning the league for the second year running. Anthony then passed on the Past Captains tie to Gary Kennedy and presented the incoming Captain Fintan Kealy with the Captains tie. After presenting Anthony with his past Captains tie Fin went on to say how honoured he was to be selected as Captain and how he looked forward to a busy season endeavouring to lead the HL team to a 3rd consequtive win.
Sonia thanked the membership for their support during the last 2 years and was presented with a bouquet of flowers by retiring acting Secretary Jim Relph.
Committee News
Following interviews on 26th April , 2022 we are pleased to announce that Jeff Langley has been appointed to the recently advertised secretary/ manager position. Jeff will commence his duties from 3rd May and will work alongside Norma as she moves toward stepping down to two days per week. We hope you will join us in welcoming Jeff to the management team at the club going forward.
A big thankyou to Les and Marie Palmer who have updated the Honours boards for a number of years now. We are now looking for someone to take over this task so if anyone would like to volunteer to get involved please contact Norma.
---
Captains Drive in
The annual 'Captains Drive in' was held on a fine but blustery day and despite the cold east wind and the critical eye of a good crowd of spectators, Captain Fintan managed a good drive.
The group photographs show: Vice Captain Martin Wilkinson, Captain Fintan Kealy and past Captain Anthony Digirolamo, Ladies Past Captain Sue Brown, Ladies Captain Sonia Kennedy and Ladies Vice Captain Sue Pickering, Seniors Past Captain Jim Relph, Seniors Captain Peter Clarkson and Seniors Vice Captain Bill Fraser, Juniors Past Captain Archie Wilson, Junior Vice Captain Thomas Mitchell and Mitchel Robson.
Bar and Catering
Bar staff wanted - Russell is recruiting so if anyone is interested in Bar staff work, or knows someone who is, please get in touch with Russell by emailing atyourservicecatering1@yahoo.co.uk or by calling 01661 843041 opt 4.
Tickets are still available for the "Queens Platinum Jubilee" celebration (see below) and can be ordered from the bar.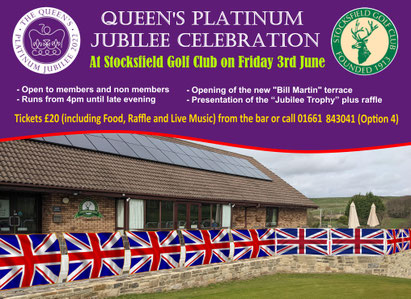 ---
Competitions News
Congratulation to our Captain Fintan Kealy and his VC Martin Wilkinson on winning the Hadrian League Anniversary Cup at Ponteland on Sunday 24th April, just one day after driving into office, that's hitting the ground running.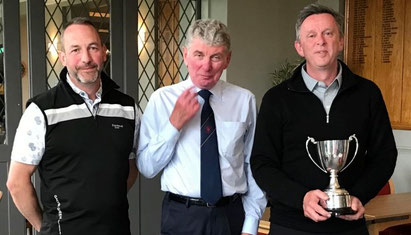 Well done also to Ian Candlish on winning the Braidwood Cup, the first trophy of the new season with an excellent 40 points on a very difficult day. The Wednesday Pro's sweep is proving extremely popular with 45 entries last week. Congratulations to winner Andrew Castle. Also we've had 3 'hole in one's recently so Congratulations go to Ben Squire, Lee Rushton and Paul Joyce.
The Draws have now been done for the Matchplay competitions and the entry fee's have been taken from your competition purses. Click here to go to Master Scoreboard and login then go to 'My Golf' to see the draw and check your purse balance.
Notes
Preferred lies will be removed as from Sunday May 1st.
The 'Score Entry' option on Master Scoreboard has been enabled so you can now enter your scores on your mobile phone, however scorecards must be completed and returned as normal. This is a back up option in the event you are unable to enter your score on the PSI's. Also KO Match results can be entered through this option.
Purse transactions can be viewed through the PSI terminals and we encourage members to use this facility if they have any queries regarding the Purse balance.
---
Team News
The Seniors and Hadrian League Teams got off to a fun start to the season with a novel head-to-head match on April 5th. The format was the Seniors playing as pairs off the Yellow Tees against our Hadrian League team playing as singles off the White tees – OFF SCRATCH. Given that our Hadrian League team, 2021 winners, play off handicaps as low as +2 there was a chance that our Seniors would get blown away. However the difference in tees and some fine play resulted in only a narrow 4 to 3 win for the Hadrian League. Our 2022 Captain , Fintan Kealy, commented afterwards that "It looks like both teams are in fine fettle ready for the upcoming season."
The Hadrian League got off to a winning start with a 9-3 win at home against Bellingham. Click for more info.
The Ladies second team had an excellent start at home against Backworth winning 5.5 to 1.5 Click for more info.
The Seniors also played their first match against last years winners Bedlingtonshire and recorded an excellent 12-0  home win to go top of the League . Click for more info.
---
Course News
The start of the new season saw the introduction of new flags, flag poles and hole cups on the greens and now that we are getting some growth the Course is looking good.
The new 12th Tee box is finished and was in operation on Saturday. It will take a few weeks for the new turf to get fully established so we will be back to using the original tee for a while yet. Also the back left bunker on the 4th green has been removed and turfed over. This will be GUR for a short while until the new turf is established. Thank you for your patience with these.

Work is ongoing on the improvements to the practice facilities with a rebuild of the driving bays in progress and a practice net planned for the near future, watch this space.
---
Pro's News
Nicky and Archie hosted two camps over the Easter School Holidays. Both days were very well supported with over 30 children in attendance. Throughout the days they combined coaching with skills challenges and also some time playing Texas Scrambles out on the back 9 of the course. Congratulations to all prize winners on the days!
If you have children or grandchildren that may be interested in joining the weekly coaching groups please get in touch with either Nicky or Archie in the Pro Shop.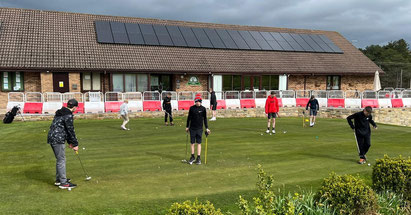 Senior Section News
Welcome to all the new Senior Section members. Since reducing the qualifying age from 60 to 55 the Seniors section has expanded to 66 members. 
There are still places left in the Seniors Team Open on Monday 9th May, this is a 4 man Texas scramble. Click here to enter a team. (Don't forget to Login via the button on top right of screen).
---