---
Steve Cram does it again.
Congratulations to Steve Cram on winning the Club Championship for the second year running, not only that but Steve is the oldest winner in living memory to win this prestigious trophy. In difficult windy conditions the scoring was higher than normal but Steve made the best of it with scores of 76 + 77 = 153, narrowly beating son James and Ben Squire both on 154.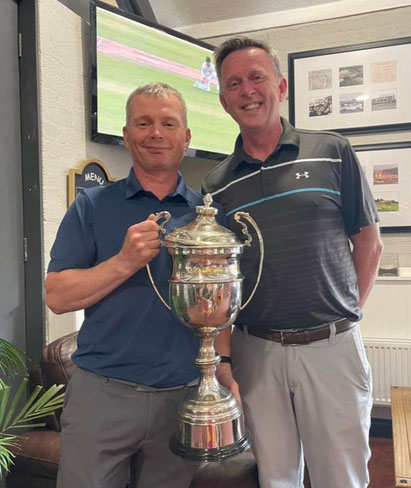 Stocksfield also won the Hadrian League Challenge Cup, Stephen Cram winning the gross with 73 and Scott McDonald winning the nett with 81-10=71 (see below)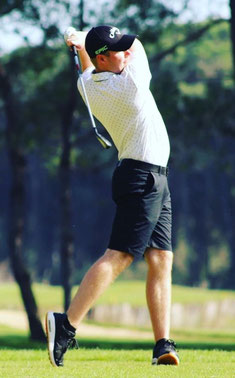 County Championship
Congratulations also to James Cram on reaching the quarter finals of the County Championship at Bedlington.
James qualified in 4th position on 2 over par and proceeded to the quarter final by beating home player Craig Taylor. Unfortunately James lost out to Stewart Fell of Tynemouth 2 & 1.
---
Gents Competitions News
Congratulations to Alan Lamb who just pipped Gary Kennedy in the Jubilee Cup with net scores of 65 + 70 = 135 against Gary's 67 + 69 = 136.
In the June medal Barry Hindmarsh came out on top with a net 64 and in the seniors William Walker Cup Seniors Captain Peter Clarkson won with a net 64.
The Old Course Trophy was won by Stephen Wardle with 40 pts followed by 6 players on 39 pts.
---
Ladies Competitions News
The Ladies Championship and Best Net Trophy was played over three days last week and the winner of the Best Net was Sonia Kennedy. The four gross qualifiers were Liz Hartley, Sonia Kennedy, Muriel Forster & Jo Blackburn, in the semi-finals Liz beat Jo & Sonia beat Muriel then in the final Liz beat Sonia to win the Ladies Championship.
Four ladies qualified for the Anne Duffus Trophy Bronze Division. In the semi's Sue Pickering beat Muriel Devere & Alison Scrimshaw beat Jen Langrish then in the final Alison beat Sue to win the Anne Duffus trophy.
---
Team Talk
The

Hadrian League

 have had a few difficult matches and are currently lying 7th in the league. Click for more info.
The

Ladies

first team are currently lying 6th in Div 2 but with a game in hand and the second team are lying in 3rd position in Div 7, also with a game in hand on the leaders. Click for more info. The evening league ladies team continue their winning run and are currently lying 4th in Group 1 also with games in hand Click for more info.
The

Seniors

 have slipped back to 3rd in the league after a difficult match at Backworth, however a good result next week could see them back on top . Click for more info.
The

Rabbits

 have had a few good results and are currently lying 2nd in the group after 4 matches, the latest position can be viewed here.
The

 Mixed Team

 won their 2nd match away to City of Newcastle 3-2 and are through to the next round.
---
Committee News
Although membership numbers at the start of the financial year dropped, the 3 month membership advert has resulted in 9 new members and we also have 3 ladies signed up to the new Ladies Academy (see below), things are looking up.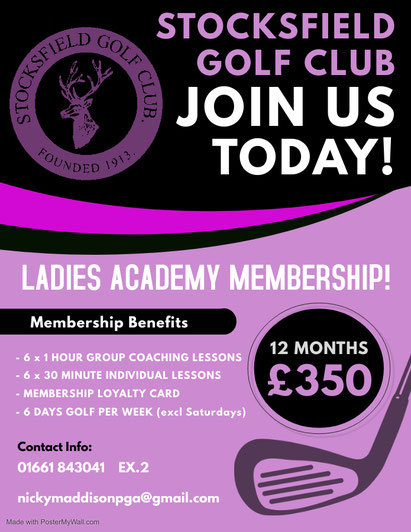 Captains Charity Day – Sat 9th July
Through personal family experience and the amazing work that we all know that they do, my Captains Charity for 2022 is St Oswald's Hospice based in Gosforth. So, my intention is to dedicate my Captains Charity golf day to raising as much money as possible to donate to this extremely worthy cause to help them with the invaluable work they do with both adults and children.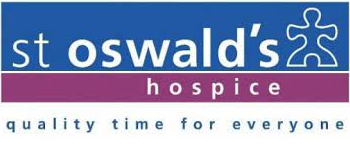 The competition will be singles stableford and you can enter the comp in the usual way. What you will notice though are some charity collection boxes and some posters and leaflets on the work of the hospice. Please dig deep and donate as little or as much as you can. If we all drop something in then the day will be massively worth it. When I spoke to the fund-raising manager at the hospice, she was bowled over with an association with Stocksfield Golf Club for this year – so let's make it count.
From Saturday 2nd, there will be a raffle display in the bar so those of you passing through the club during the week leading up to the day might fancy buying a ticket or two (or more 🙂). If so, ask at the bar and one of Russell's fab team will oblige. Draw to be made after the 9th and all winners we be promptly contacted. Fingers crossed for a nice day, and I hope lots of you can come along and play. And lets raise a bit of money while we are at it. 
Captain Fintan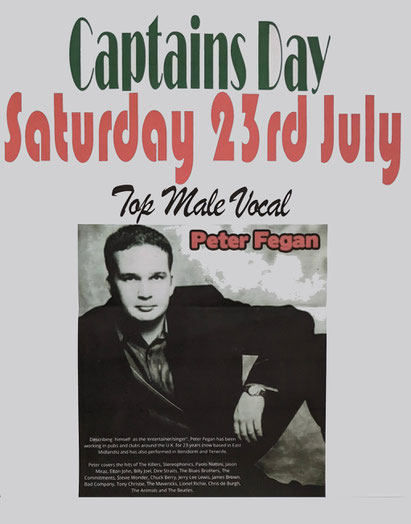 Saturday 23rd July see's the annual Captains Day at SGC. The event will be open to all sections and be a singles stableford format. I really hope to see as many of you there as possible for what should be a great day! As well as the comp, there will be:
Halfway house providing food and beverages
Nearest the Pin prizes
Some surprise on course mini comps
I would also love as many of you to stay afterwards too. There will be a presentation with some great prizes up for grabs. Russell will be there to see to your après golf food and drink needs and once the formalities are completed, there will be some top-class entertainment from top male singer and entertainer – Peter Fegan. I am really looking forward to the day and hope to see many of you there. Many thanks, Captain Fintan.
---
Members take on 72 hole marathon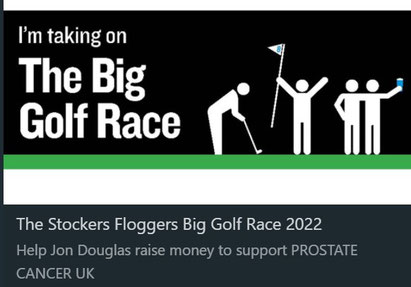 Jon Douglas, Stephen Jewitt, Richard Lee and Steven Robson are playing a 72 hole marathon on Friday 15th July to raise money for Prostate Cancer. They will tee off about 4.30 am and hopefully around 7.00 and appreciate any support throughout the day. Also if you wish to donate to a worthy cause please click here.
---