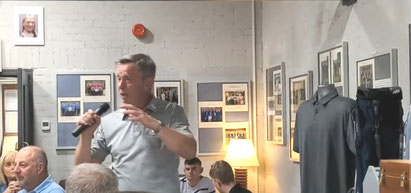 Captain Fin delivered an excellent day of competition for the members, playing for a tremendous array of prizes. With a very welcome drink and a superb pie at the halfway halt then an unusual evenings entertainment.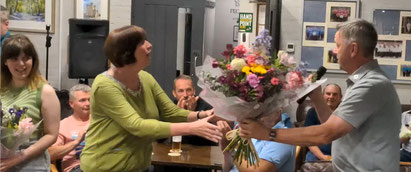 Having thanked his army of helpers at the halfway halt and presented flowers to his family members Fin proceeded with the presentation of prizes. Disappointingly very few of the winners were there to collect their prizes. Below are photo's of some who did attend.
The winner were:
1st – Stephen Wardle won a Srixon Stand Bag
2nd – Kieren McGrane won Golf Shoes
3rd – Michael Nicholson won a Polo shirt
4th – Scott McDonald won a Travel Cup
Best Lady – Hannah Kennedy won Visor and markers
Best Gross – Sam Wilkinson won towel and balls
Best past Captain – Martyn Henderson won a shoe bag
Best Guest – Ray Kennedy won a 4 ball voucher
Nearest the pins each won 3 x '150th Open' balls
3rd – Sam Wilkinson
10th – Richard Lee
14th - Richard Shiel
18th – Gary Thompson
---
Evenings entertainment
The entertainment had a difficult start as a punk rocker turned up to entertain us with heavy metal and punk music, not what the audience had expected. His strange behaviour, speech impediments and lack of social skills led to an unpleasant row with a very agitated Captain (during which Fin inherited the name "kn—head"), this resulted in the punk's promised departure and ultimate replacement.
However after a calming down period it was agreed he would entertain us until his replacement arrived. Well, surprise surprise, after a short while he re-appeared as the real Peter Fegan and provided an excellent performance supplemented by his sister. A superbly performed spoof that Peter Fegan and Captain Fin acted out brilliantly. Well done Fin.
Captains Day Raffle
Raffle and Auction Winners – All proceeds to St Oswald's Hospice.
Wine Hamper – David Rainbow
Magnum of White Wine – Martin Wilkinson
Haysmiths Gin – Peter Blackburn
Bottle Red Wine- Russell
Fruit and Veg Hamper – Gary Bridgewater
Warkworth GC 4 Ball Voucher – Martin Kemp
Craft Beer Basket – Martin Wilkinson
Bedlington 4 Ball Voucher – Gary Bridgewater
Craft Beer Basket – Steve Coulson
Burgham 4 Ball Voucher – Eddie Clark
Thorntons Box of Chocs– Clive Rogerson
Lindt Chocolates – Ray Kennedy
Chipping for Charity Competition
Bottle of Single Malt Whiskey – Martin Wilkinson
Auction Winners
The last ever Whitelaw's Streak Pie sold for £45 to  -   

Jason McGray

4 Ball Voucher for Archerfield donated by Steve Cram. Sold for £275 to - David Mead
Total Raised - £797. This, along with the £542 raised on charity day amounts to an amazing £1,339. Many thanks for all your generosity.
---